Download "Be Thou My Vision" – Poole Passion 2016
The Poole Passion is performed every two years in Poole, Dorset and is a huge community undertaking. The two and a half hour production culminates in a song performed as the whole cast leave the stage following in the footsteps of the risen Christ.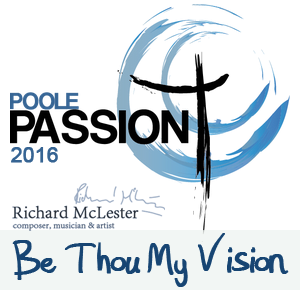 In the weeks leading up to the 2016 production, Richard McLester re-scored and produced the hymn Be Thou My Vision to make an uplifting finale to the drama.
Soprano vocals are sung by Shannen Knutsen, a soprano soloist from the University of Winchester.
If you don't get the chance to come to any of the live performances, or would like a keep-sake from the production, you can download the mp3 file below.
Download Be Thou My Vision
Just let us know your name and email, and you'll receive the file automatically via an email link…