Get Involved with The Light 2015!
For 2015, Richard is building a new art installation called "THE LIGHT". It will be a giant globe of light hanging in Poole Dolphin Shopping Centre over Christmas. There will also be a concert performance under the installation on the 26th November for Late Night Shopping Evenings in December.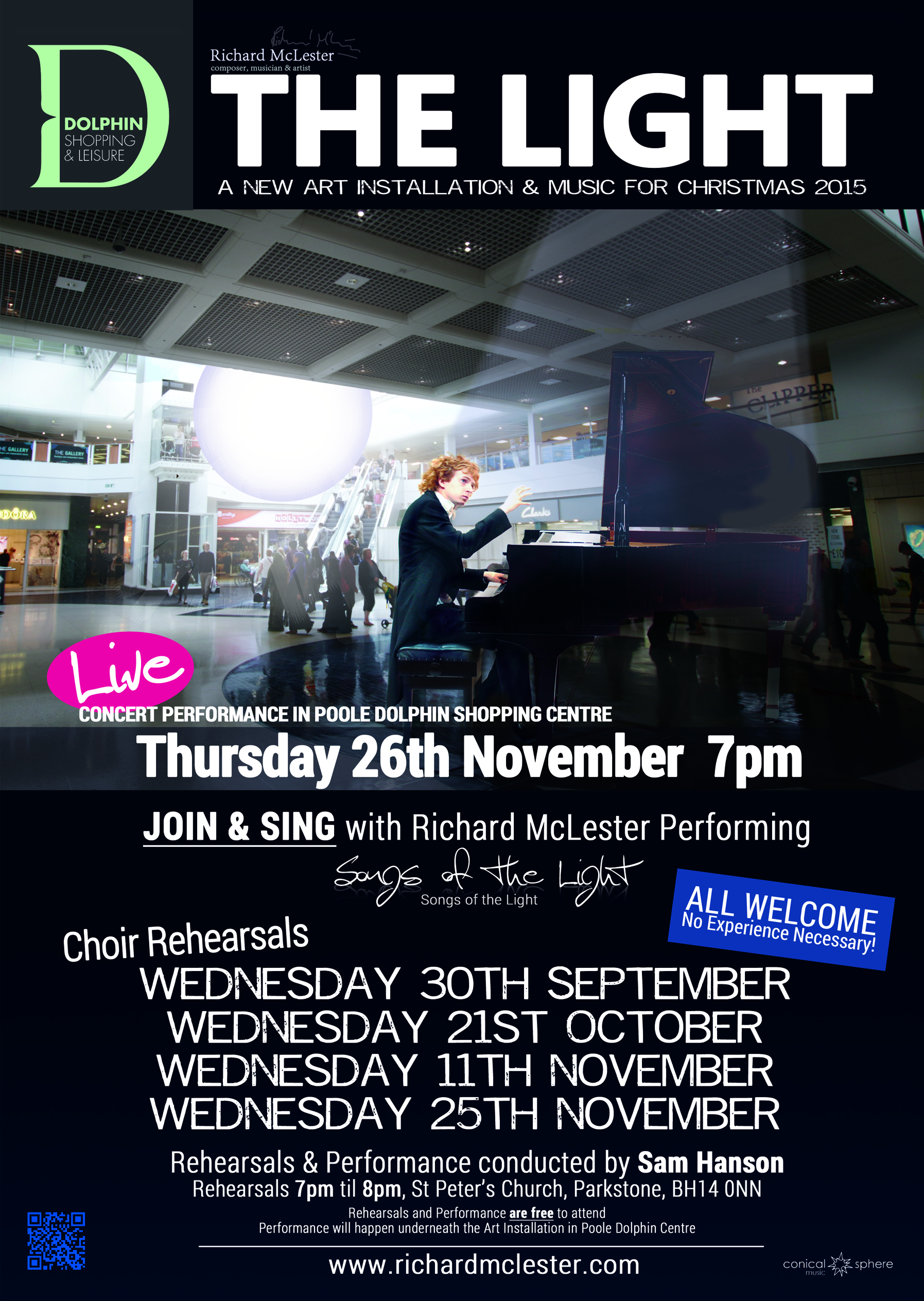 Spread the light of Christmas throughout our Community!
The performance is designed to engage with our community and bring Poole Dolphin Shopping Centre to life! We want as many people involved as possible and so Richard would like to invite as many people to come and form a choir for the concert. Whether you are an experienced singer or someone who has never sung before, the music has been written to cater for all levels!
All of the music has been written by Richard McLester.
Local choral maestro Sam Hanson is leading the rehearsal/workshops and will conduct the choir on the day, with Richard performing on piano.
The rehearsals are open to all, and are completely free! No previous experience necessary.
Wednesday 30th September 7pm-8pm
Wednesday 21st October 7pm-8pm
Wednesday 4th November 7pm-8pm
Wednesday 11th November 7pm-8pm
Wednesday 25th November 7pm-8pm

Rehearsals will take place at
St Peter's Church, Parkstone BH14 0NN
Thursday 26th November 7pm :: PERFORMANCE IN POOLE DOLPHIN CENTRE
Please use this as an opportunity to help spread the light!
Want to be involved? Use the form below to message Richard and let him know…
[cfwc]
The Light is officially part of the International Year of Light 2015, UNESCO.